GOLD: BIG OR SMALL, GET IT ALL WITH AXIOM!
COURTESY: https://www.garrettaustralia.com.au/axiom-wireless-package
This is the Axiom, the most powerful, advanced gold machine Garrett has ever produced and the lightest detector in its class. Powered by a built-in, high-capacity Lithium-ion battery that provides about 16 hours of use, twice that of other high-end pulse detectors.
The Axiom is all about gold performance. Its Ultra-Pulse technology means ultra-fast, multi-pulse technology and timings, along with advanced digital signal processing. This allows excellent depth on larger targets while providing enhanced sensitivity to very fine nuggets of sub one-tenth gram size, or 1 to 2 grain-sized.
The Axiom has excellent sensitivity and an all-new Terra-Scan multi-channel ground balancing system. Its wide range of adjustment allows Axiom to handle everything from extremely mineralized ferrous black sands, to hot rocks and iron stones, to salty alkaline areas, and even saltwater beaches.
With Terra Scan, four different timing modes, an EMI cancellation feature, and four select-able speed settings for continuous Ground Tracking the Axiom has the versatility, technology & performance to find gold or relics in places where other high-end pulse detectors simply can't.
---
COLLAPSES TO 25 INCHES (63.5 CM)

TERRA-SCAN

Axiom's advanced system provides independent dual-channel ground balance that covers the full range of mineralization, from heavily mineralized magnetic ground to saltwater, and everything in between.

IRON CHECK

Quick demonstration of how this feature helps you audibly identify iron targets with the Axiom when using a DD searchcoil.

BUILT-IN, HIGH-CAPACITY LITHIUM ION BATTERY EXTREME BATTERY LIFE

With about 16 hours on a full charge, Axiom's built-in, high-capacity Lithium Ion battery provides twice the battery life offered by some prospecting detectors!

EXTEND YOUR TIME IN THE FIELD!

Axiom's booster pack holds 8 AA batteries, either standard or rechargeable. Use this pack to get another 6 hours of battery life in remote areas.

2 AUDIO TYPES

Choose from PWM Audio or VCO Audio options. See short video demonstration.
| | |
| --- | --- |
| Ultra Pulse™ Technology | Yes |
| Pulse Rate | 1500 Hz (adjustable) |
| Frequency Scan | Automatic EMI cancellation |
| Z-Lynk™ Wireless (integrated) | Yes |
| Headphone Jack | Yes (1/4″) |
| Backlight | Yes |
| Ground Balance | Automatic, dual channel |
| Ground Balance Readings | Dual independent numbers |
| Ground Balance Window™ | Yes |
| Ground Track Modes | OFF, Slow, Medium, Fast |
| Iron Check™ | Yes (with DD coil) |
| Volume Control | Yes |
| Threshold Control | Yes |
| Tone Control | Yes |
| Audio Type Adjustment | Audio 00 (PWM audio) or Audio 01 (VCO audio) |
| Sensitivity/ Depth Adjustments | 8 |
| Waterproof coil/stem | Yes |
| Rainproof control box | Yes |
| Included Searchcoils | 11″x7″ Mono Coil & 13×11″ DD Searchcoil with Focused Core (FC) |
| Available Searchcoils | 11″x7″ Mono and DD coils, 13″x11″ Mono and DD coils, 16″x14″ Mono and DD coils |
| Length (Adjustable) | Fully extended: 61.5" (156 cm) collapses to 25" (63.5 cm) |
| Total Weight | 4.7 lbs. (2.1 kg) with 13" mono coil and coil cover |
| Battery Source | Rechargeable Lithium Ion, built-in; 76 Wh, 306 g |
| Battery Condition Indicator | Yes |
| Battery life |  16 hours, depending on settings |
| Extended battery pack | Included |
| USB-C Charging | Yes |
| Warranty | 3 Years, Limited Parts/Labor |
| Apps | No |
| GPS | No |
| Bluetooth | No |
Garrett Axiom, the "other" worlds best metal detector. When the world has been dominated by one particular metal detector manufacturing company, aka "Minelab", it takes some mite to edge your way in to the market. Fortunately, "Garrett" have been around long enough to know what it takes to build a very special pulse induction metal detector.
Garrett, Whites, Minelab and a few others have been around for years and some of the main contenders in the PULSE INDUCTION type metal detectors. But where are PI detectors headed? What can a new PI detector bring to the table?
Well Garrett certainly have put some thought into their design, and while not a contender for the deep gold finding ability of the GPZ 7000, it isn't that far behind. And as far as small gold goes, with the smaller coil it has show to be competitive with the Minelab GPX 6000 in certain conditions, though on face value, comes just behind the 6000.
As far as a comparison – if you want to learn more, visit YouTube as there are plenty available from both the USA and across Australia.
---
COURTESY: https://www.metaldetector.com/blogs/new_blog/understanding-pulse-induction-metal-detectors

What is a Pulse Induction Metal Detector?

A pulse Induction or PI metal detector sends high amperage signals using a copper coil to produce electromagnetic fields. These electromagnetic fields collapse, which creates spikes in voltage. The spikes allow the metal detector to detect metal through the receiving search coil.

Detectorists love pulse induction mеtаl dеtесtоrѕ due to their excellent performances in hіghlу-mіnеrаlіzеd soil. Pulse induction devices are basically іmmunе tо highly-mineralized ground, but they keep their hіgh ѕеnѕіtіvіtу.

Pulse induction metal detectors are one type of metal detecting technology. A pulse induction device works by sending short pulses to the coil of the metal detector. The short pulses sent to the coil create a magnetic field, which dissipates quickly at the end of each pulse.

A metal target in a magnetic field will continue to be magnetized for a short period after the end of each pulse. The metal detector's coil will then detect the object's decaying magnetism. Pulse induction metal detectors can deal much more effectively with complex, undulating ground conditions. For this reason, pulse induction devices work well when searching for gold.

Let's learn more about pulse indication metal detectors and the reason they are popular with gold hunters.

Pulse induction metal detectors are excellent for:

Маgnеtіtе and Magnetic Hоt Rосkѕ
Salt Water Beaches
Ѕаltwаtеr Oceans
Drу sаnd
Wеt blасk ѕаnd
Gold prospecting areas

Ground Balance

The ground balance setting of a detector is one of the most important features to consider when selecting a detector. In the mineralized ground, there is a setting called Ground Balance, which can be used to improve metal detection depth and stability. For instance, when metal detecting wet beach sand or fine iron particles, there may be salts that respond similarly to targets. These salts may mask them when metal detecting with wet beach sand or fine iron particles.

This can be addressed by the ground balance function. This will remove the possibility of a false signal or ground noise. This allows you to hear the ground signal produced by a good target instead of a false signal. As a result, detecting will be less frustrating and more enjoyable.

In this article, we will explore the different types of ground balance that are used on metal detectors as well as how they work. As you gain more experience with your metal detecting equipment, you will be able to learn the tips that will enable you to detect metal effectively.

Pulse Induction Metal Detectors

We can see from the info graphic above that pulse induction metal detectors can be used for a variety of purposes. These include gold prospecting, saltwater diving, deep treasure hunting, and relic hunting.

Gold Prospecting with Pulse Induction Metal Detectors

When prospecting for gold, you are likely to come up against highly-mineralized ground conditions. This high-mineralized ground produces a noise when a conventional metal detector is used to search for gold. Many goldfields around the world are filled with mineralized ground. The amount of mineralized ground in a goldfield can vary in degrees.

A pulse induction metal detector can effectively deal with the mineralized ground, making it far easier to hunt for gold nuggets. A pulse induction device has a very strong instantaneous response from the ground when hunting for gold. The instantaneous response is fantastic when searching as the mineralization of the ground can change often as you search.

The changing magnetic field produced by the ground is avoided as the metal detector's receiver is turned off. A gold nugget target is then more obvious to the device compared to the much smaller magnetic responses produced from the ground. A pulse induction metal detector is not exposed to many of the search issues that a continuous wave metal does. A pulse induction metal detector can even work with hot rocks.
---
With the Axiom, it certainly looks like the Garrett company did their research and have came out with the ULTRA PULSE variation of a pulse induction detector for their Axiom model.
Remembering, this is not a comparison, I have had the opportunity to own and use the Gold Bug VLF, Equinox 600 VLF, GPX5000  Pulse Induction, GPX6000 pulse induction and the GPZ7000ZVT pulse induction.
TECHNOLOGY: 8/10 – ERGONOMICS: 10/10
What Garrett "can't" currently compete with is Minelab's patented ZVT – Zero Voltage Technology. Other than that, the Axiom is a perfect "all-round" PI machine that many are choosing for it's light weight and perfect ergonomics allowing longer swing time and concentration while prospecting.
---
Minelab are for marketing…..Garrett for people, go Garrett
Garrett coils for the Axiom here in Australia are close to double the cost as sold in the USA! It's actually a couple of hundred dollars cheaper to buy from the USA and have the coil sent here – even after the USD to AUD conversion. Go figure? And consumables like skid plates aren't far behind.
I think Garrett Australia really need to rethink this part of their business or loose a lot of on-going sales for coils. I was looking forward to adding Garrett Axiom 13X11″ MONO search coil but the price just does not make sense at the moment. This is surely some profiteering on the Australian retail side of things?
My 11×7 already has a touch sensitivity issue I thought I'd overcome – seems faulty now, so has been sent in to Garrett Australia for testing.
UPDATE: Around the same time I sent in my small coil for testing I had quite a significant fire on part of my property – like over $250K of damage, fortunately no body was harmed and insurance have been forthcoming in assistance and reparation. In the fire I lost pretty much everything that came with my Garrett Axiom Detector
To Garrett Australia and Garrett USA's credit – everything was replaced at no cost to me and a brand new 11×7 coil arrived with a personal note of sympathy. For the dealings I have had with the Garrett company, they have been over and above nearly every company I have ever had to deal with.
I cannot praise them enough for how they have looked after me, even with some other unrelated dealings prior to the fire – they were nothing but supportive, responsive and helpful, a far cry from what you generally get from other detector companies. Especially the competition who sell the "blue" detectors (ML). Great technology, poor support and terrible build quality.
Aftermarket Coils???
X-Coils had a preliminary "leak" of impeding coils being released for the Garrett Axiom starting with an 8inch DOD and having other sizes in mind. There was a short YouTube video of the tester being used in the USA, a welcome addition to the Axiom accessory range creating more options to find gold.
---
I had 7 X-Coils for my previous Minelab GPZ 7000, it proved very useful tuning a detector to an area in differing circumstances. It also allowed you to have it working at maximum performance levels all the time as you were literally setting it up completely for that detecting session.
I did get an X-Coil tester in the earlier days and with the results, happily paid the almost $2k price tag "each" for more coils as they did exactly what people were saying they did – got more gold! Paying for themselves along the way – so having as much invested in my $10k detector as I did in my coils ($10k) just made sense.
Am I buying the 8 for the Axiom as soon as it's available? You bet I am, I won't hesitate for quality. And any that may come after. The Axiom coils are good, the x-coils are great, simple.
---
UPDATE: At the moment, X-Coils are sitting on this idea of releasing any coils for the Axiom due to a number of reasons. In particular – how much demand there would be, and the measured performance increases over the standard coil range.
---
---
Big coil : Small Gold = Useless
14/11/32 Went out prospecting today and used the larger 13×11 DD coil while waiting for Garrett to replace the smaller 11×7 mono coil. So what did I think of the larger coil – things I liked were the ability to do IRON CHECK, very handy feature which got used a lot.
It definitely has the center focus thing it is known for, great for pinpointing and working multiple target ground. It was easy to swing and covered more ground than the smaller coil. Things I wasn't so impressed with were the increased weight of the larger DD coil certainly shortens you searches between rest breaks compared to the 11×7 coil. I'd hate to see what the 16×14 would feel like – it would have to be for very specific detecting.
While the larger DD coil did and can find small targets, eg: birdshot down to .08 inch/2.03mm size, it could not find these small sizes beyond a maximum depth of 2 inches (usually around 1/2 – to 1 inch deep) which while disappointing when compared to other machines running larger coils, wasn't completely out of the ordinary.
I did however have success with this coil the larger the target got, getting some good depth as expected. An example would be a bottle top laying flat at 12 inches was well within it's capabilities.
---
Some out takes of comments I have made online in various forums…
"Hands On – 6000 vs Axiom Quality"
I used my wife's GPX 6000 last week, that stupid shaft twist was annoying as hell. The speaker pointing backwards is no one's friend. I did like using it, you felt confident you wouldn't miss much with it. The 6000 has suffered MANY manufacturing issues with regular faulty coils, DOA units, speaker issues and the list goes on.
Now in saying that, and reading all of Minelabs short comings, it's performance is quite amazing on tiny gold with the ability to also get larger and deeper nuggets depending on conditions of course. With my Garrett Axiom, the build quality is 100% spot on – in quality control, tolerances, weight and balance, etc… I have also had some necessary dealings with Garrett Aust and USA and it has also been spot on.
Garrett went over and above to look after me, a single customer with some non critical issues. It really saddens me that Minelab "WAS" a brilliant, forward thinking, Australian company, but now, has slipped in so many ways.
The ONLY thing they have going for them is the technology aspect of their detector business. The rest is just plain crap, marketing, poor customer relations, poor build quality and poor quality assurance etc….
I cautiously await a succession to the GPZ 7000, already thinking how I could take the internals out and putting them in a better platform. Surely I can't be the only one thinking this? Which should worry Minelab about their companies direction in the market.
---
"Garrett VS Minelab"
I've been using the Axiom for quite a while now, it certainly is built 100% better than the 6000. It certainly is in the new class of all in one compact PI machines, and certainly is "similar" in performance to the 6000 using stock coils. Minelab have always had an edge on performance, usually at a cost – ie; stability, weight, build, etc…
The Axiom seems to be the detector Minelab "should" have built after the 4500/5000 days. I absolutely love this Axiom detector (never thought an Aussie would say that about a Garrett?). The only improvement I really wanted to see was coils, and they are slowly in the works – so would I ever go back to a Minelab???
Show me a ZVT PI that's this light and well made with optional coils….and I'd consider it. But Minelab have become more of a sales and marketing team. Why make a new detector to fill a $10k void that really isn't there?
---
"In Search Of More"
I guess as a part of this question, is there anyone who can explain if/how you could use a GPX coil on the Axiom? I'm not looking for the mechanical connecting, but the TX/RX values and compatibility etc as a road to getting even better coils for the Garrett Axiom.
I find my 7×11 ridiculously bump/pressure sensitive at times, though I love the size and shape – would like a little more detection sensitivity. Has anyone had to send their 7×11 back? As an option, my ultimate dream for a larger coil would be to have an 18 inch NF Advantage coil.
It was my favorite and best performing and light weight. Also it found my biggest nugget to date (25g). The standard Axiom coils are good, I'm not knocking them and kind of enjoy the 11×13 central hotspot. Thoughts???
"Wrap up description of the Axiom"
COURTESY: https://www.detectorprospector.com/forums/topic/21210-garrett-axiom-vs-minelab-sdc-2300/page/4/#comment-255842
So I've been using my Garrett Axiom for a few months now. The ergonomics and construction are AAA+++ and the weight, particularly with the 7×11 coil is amazing. Lighter than my wife's GPX6000. That alone was the reason I purchased it over my GPZ7000 which I sold to buy the Axiom. Having extensively used the Gold Bug, Equinox 600, SDC2300, GPX5000, GPX6000 and GPZ7000 with all of the optional coils available, yes, I was a coil junkie!
I can tell you that the Axiom does indeed fall short in many ways of performance compared to the Minelab range. This is partially to do with the coil, partially the software/settings available and partially to do with my one eyed Minelab preference. It really does not excel in any one particular area, but averages out over the full range of operating parameters. The unfortunate thing with the Minelab's were that they were NEVER packaged as good as what their price tags led you to believe.
Coil options evolved out of necessity, especially with the incredibly sensitive x-coils. Nothing is perfect though – after a while, I was finding the x-coils less than robust, appearing with cracks and wearing through skid plates at astonishing rates (partially due to my heavy handed use) then not being able to get replacements. The x-coils though, found me A LOT OF GOLD. So where am I going with this? Um…the Axiom is the closest thing to a near perfect detector that I have ever used, if only it had a bit more ground punching power.
Due to my neck/back/tendon injuries – this is the only detector I have been able to swing with out pain, so I love it because it keeps me in the game, but until the thing performs a "little better", stick to the sub par ergonomics and support of a Minelab.
"Surely smarter than that"
"…..also, as it was bought up, the wireless is lacking and while I was on the phone to them (Garrett Australia) today, they agreed it was not ideal and to follow all the suggestions as you have posted. I'm just surprised that GPZ7000 wireless 2015 and Axiom wireless 2022 are pretty much on par. A few years back they started making small, cheap guitar transmitter and receives selling on Aliexpress from $30 for 2.4g up to $70 (approx) for 5.8g and just as fast, but will transmit easily 50-100ft without interference or drop outs. I took some of these and ran the GPZ headphone jack direct into them and made a few different designs with amp boards and audio compression on some etc…with incredible results. Just saying!"
"As a side note, I use to make my own amplifiers and transmitters for my GPZ7000 (sold it now) and used guitar 5.8g (and 2.4g ones) transmitters off Aliexpress and some of their cheap audio amp boards with a good speaker and the sound quality was amazing, loud, NEVER dropped out, and stayed connected 30m in bush and 50m in direct line of sight. How can the GPZ7000 and Axiom proprietary comms be so bad and the cheap Aliexpress units be so good? I will be working on one for my Axiom with the WR-1 asap or moving to the guitar units an bypass the sadly under-performing OEM Z-lync…"
"Early day gripes of the Axiom"
"I just bought a used Axiom that was near new. The coil was factory original with zero wear. I noticed pressure sensitivity on the front half and when I got home, checked it out. It seems the coil cover hadn't been pushed on and held with pressure while they taped it. The whole bottom was like a 3mm (1/8″) deep sponge. Tomorrow I will remove it and refit it correctly. Poor quality control in both fit and assembly!"
RESPONSE: "Garrett does not tape the coils so you are blaming them for the prior owners action. Best bet if coil covers don't fit properly or wireless is not up to snuff is to just sell the detector and move on. Life's too short to deal with such things when some other detector would be less aggravating."
RESPONSE FROM GARRETT: "Our coils are designed to have an air gap between the coil cover and the coil. They are also designed to be used without coil covers!" – (EDITOR: now that is definitely a first).
"Hi Steve, I'm not unhappy with my Axiom, merely pointing out some short comings. I absolutely love it, just would expect after all of Minelabs many failures that Garrett would be just a little better. I have included a very clear and telling photo of why the coil was taped on, and it IS a Garrett issue – NOT the guy before me with the tape. Also, the sponginess of the underside would benefit from the vent I have included a photo of, and yes, they are 100% waterproof and equalize the air pressure inside and out."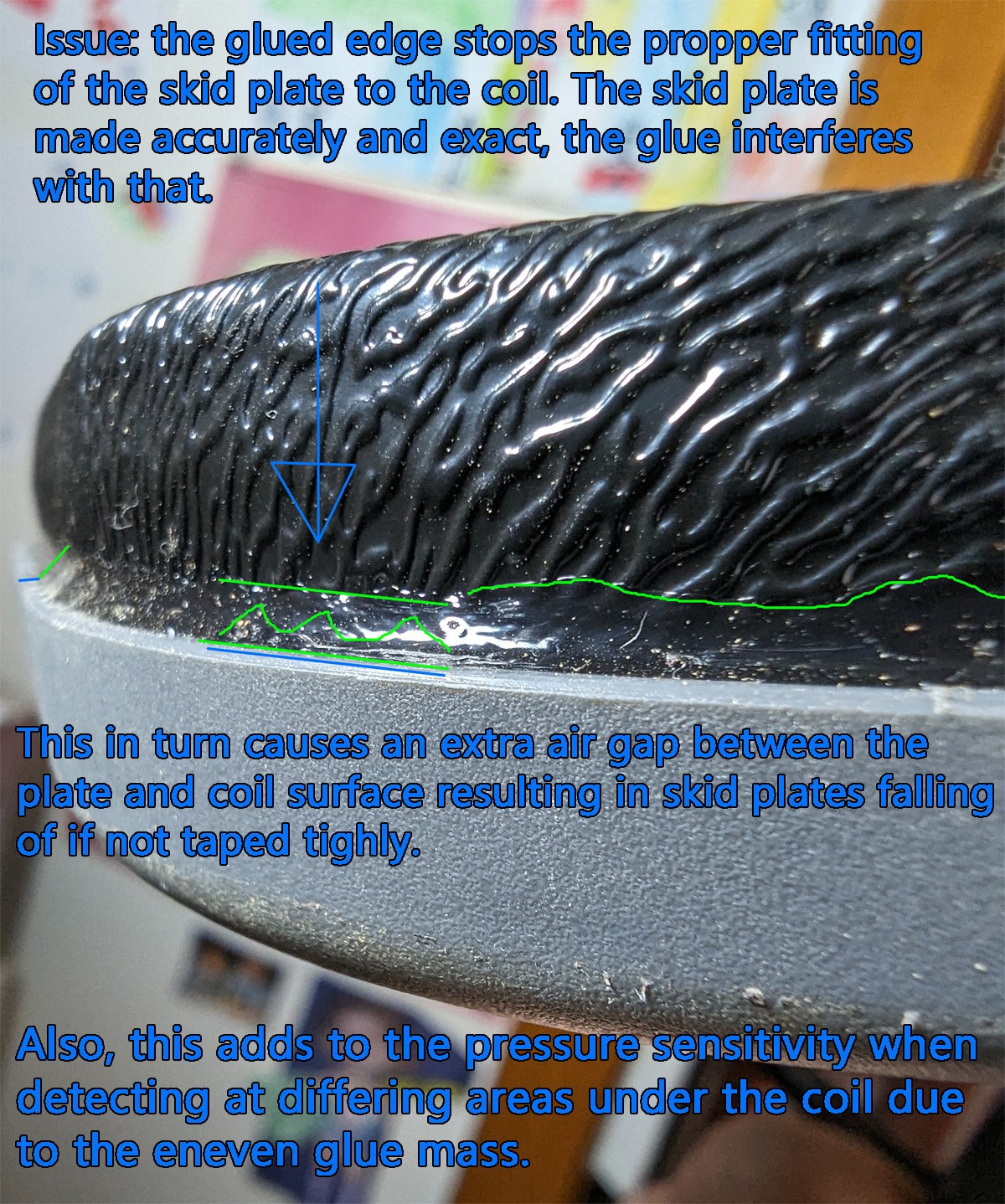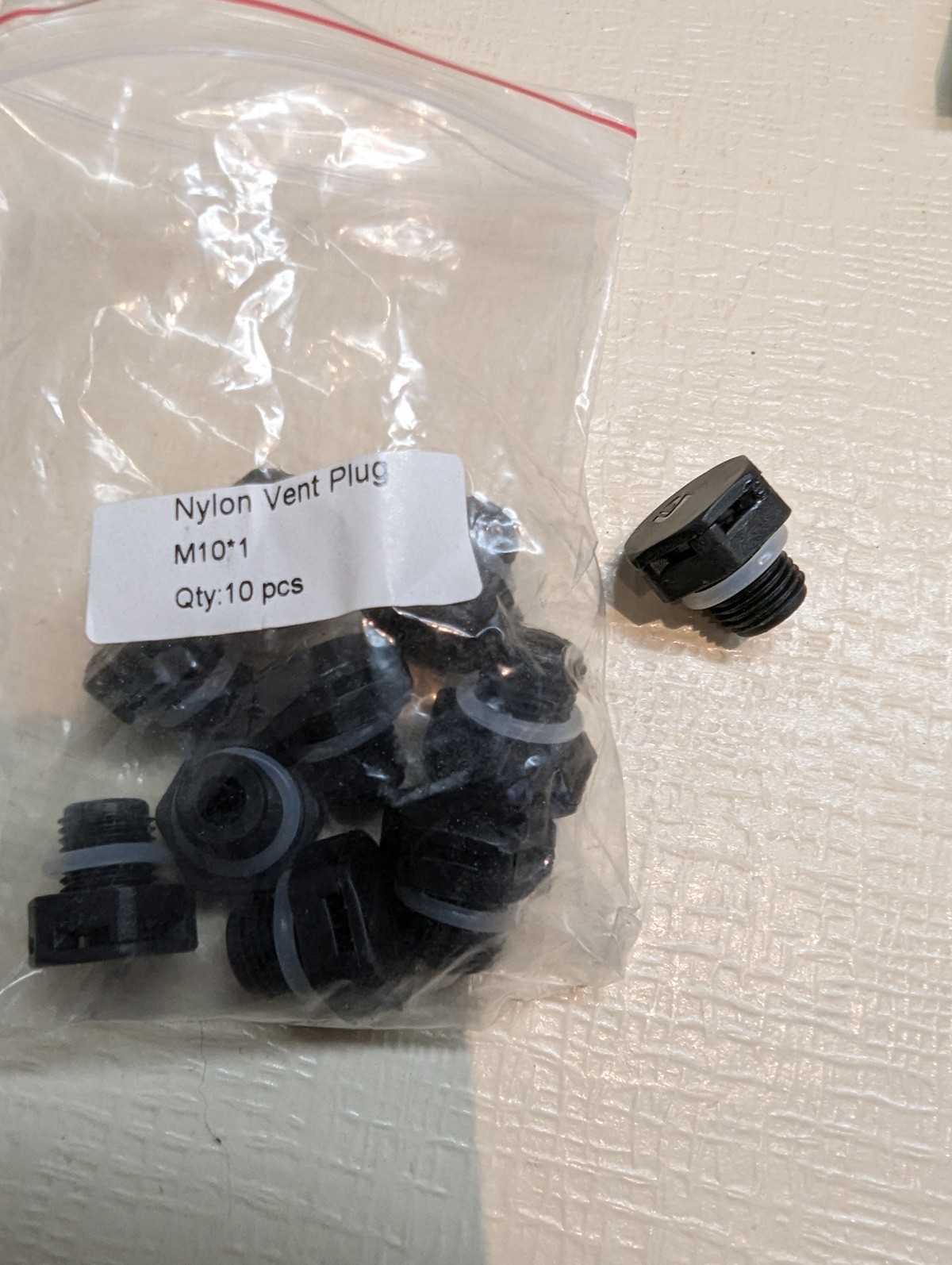 So, to wrap it up – the coil itself ended up being faulty giving me all the grief, not the coil cover issue.
Points of interest…..takeaways ⇒
The service from Garrett is, and has been "supreme" in my particular case. There was also an incident (not mentioned in this write up) with my accessories where Garrett stepped up on their own accord and further assisted me without delay. I haven't seen that service from the "blue detector" company for many years.
The Garrett Axiom "IS" a great machine, with ergonomics and build quality standing out at 10/10 – can't say I have ever seen a product physically as good.

The perfect go-to all rounder PI machine. If I had to grab and go, this would be the one. And many others have said the same (including Steve Herschbach).

The all important one – performance! The battery life is astounding, at times giving me over 2 full days prospecting. It's ability to detect gold is there without question. While I'd say the GPX 6000 would consistently out rank the Axiom "on small gold at depth", especially with smaller aftermarket coils, the Axiom has on many occasions seen gold the GPX 6000 has passed over.

There is no one perfect detector "." Though having a light, strong and comfortable detector will give you many more focused and happy (no back pain) hours of detecting -aka – the Axiom. And! you won't have to send it back for software and hardware updates including faulty speakers, faulty coils, DOA and erratic units, and silly spinning shafts -aka – the GPX 6000.
Summary
Reviewer
Review Date
Reviewed Item
Garrett Axiom Ultra-Pulse Metal Detector
Author Rating





Product Name