WARNING: DO NOT BUY FROM THESE SELLERS!
Shenzhen Foxell Technologies Co., Ltd review – Contact Kevin Lee
Shenzhen Foxell Technologies Co., Ltd
Shenzhen Foxelion batteires Company Store
Shenzhen GTKPower batteries Company Store
WARNING: DO NOT BUY GTK BRAND BATTERIES!
---
---
My 66160 battery story: An Expensive $10,000 Lesson
LTO 66160 BATTERY PURCHASE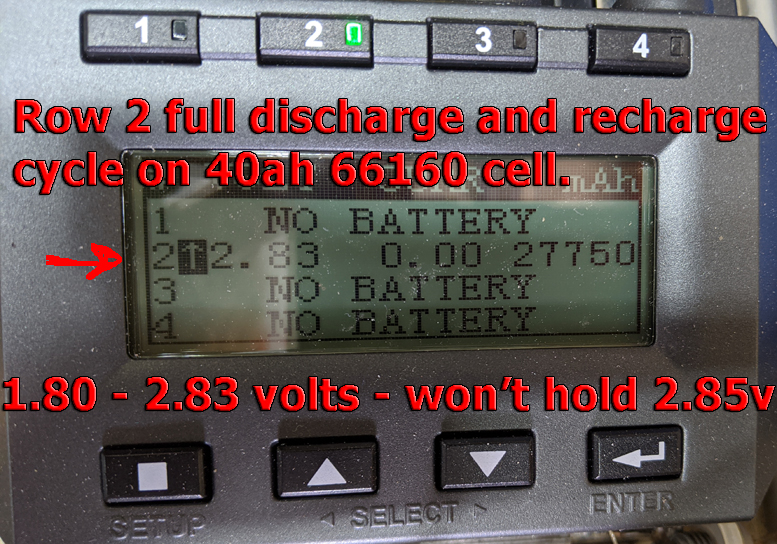 Early in 2019 I'd saved enough money to buy my first battery wall. I did months of research looking mainly for the best lithium battery chemistry to get. I chose the LITHIUM TITANATE or now known as LTO (among others) mainly because of its recharge cycle life.
These batteries have an astonishing life cycle and are very resilient to over-discharging. There was little information about them and even less test gear or reviews so ultimately, I was buying blind.
Continuing research bought me to learn lithium titanate batteries were being used successfully on Chinese electric buses. These Microvast brand LpTO batteries (lithium Pouch Titanate had been performing well while the 66160 cells had little feed back on them.
"Microvast is a relatively unknown company that's been developing and producing some interesting lithium-ion batteries with lithium titanate chemistry called LpTO (similar to Altairnano). These batteries have been used for some time now in some HENGTONG electric buses in the Chinese city of Chongqing."
So my decision to go with the Li2TiO3 lithium titanate chemistry was based on the fact I'd only ever have to make one lithium battery purchase in my lifetime. The 66160 format battery was the only common size available at the time and offered the best value amps per dollar.
I searched high and low only to find that AliExpress was the only people selling these batteries at the time. Little was known about them and even finding a BMS caused some delays. Ultimately I had a custom DALY BMS made to suit.
RETAILER: AliExpress

SELLER: Shenzhen Foxell Technologies Co., Ltd

PRODUCT: 100 x 66160H Lithium Titanate 40Ah GTK Batteries

CHEMISTRY: Li2TiO3

ORDER TIME: 20:46 Feb. 07 2019

PRODUCT AMOUNT: AU$ 6,657.15

SHIPPING COST: AU$ 88.62

TOTAL AMOUNT: AU$ 6,745.77

ORDER NUMBER: 98671306086972
After receiving my order, I basically stored the batteries due to having to deal with a few health issues and decided to revisit the project some time later. Unfortunately, at the time – I did not think the Chinese had stated fake labeling on this chemistry battery though it was known for the 18650 lithium ion batteries.
Also there was no real test equipment for the lithium titanate chemistry.
AliExpress only offers a 15 day warranty on goods. Something I did not pay attention to at the time, otherwise I would have done some testing then (though it would have been difficult as no LTO specific test equipment was available then).
So, later that year I built my "ultimate battery wall" – 100 batteries x 2.3 volts x 40 amps = 9,200 watt capacity (less your usual losses etc…). It wasn't long before I realized I wasn't getting the watt – hours I thought I would.
Hi Adam,

I am sorry for you loss, sometimes it happens when you didn't find the final manufacture.

But since we have built relationship directly, I hope that we can go further.

I don't know if your batteries were form Yinlong, we have A and B grade cells for sale, C grade which is scraped product which not for sale. Some company also make fake battery and claim they are from Yinlong.

Also maybe some customer, no matter they buy cells, bus or energy storage system from us, when they don't want the cell anymore, maybe sell to overseas market. We did a lot efforts for this kind of situation, but really difficult to forbid.

There are nothing i can do for your old order, but if you need more, real cells, i can help.

When you called me you mentioned that there are some problems about your cells, if there are any technical supports i can do you a favor, please let me know.

________________________________________
Best regards,

Camille

Yinlong Energy Co., Ltd
I then began noting charge times and discharge times etc… on my GoodWe 5048D-ES UPS battery circuit. This raised further alarm bells so I set out to seek some lithium titanate battery testing equipment only to find there really wasn't much around. That was till I came across the SKYRC MC3000 running Ver 1.4 firmware.
I can not talk highly enough about this item! It is more expensive than similar sized lithium chargers, but MUCH BETTER MADE! With an easy to use App. to control functions with ease. The Ver 1.4 firmware allows compatibility with lithium titanate chemistry.
This made for some very easy and more accurate LTO battery testing. So, a long story short… I randomly tested these GTK 66160 lithium titanate battery cells only to find them all coming in at between 26Ah and 27Ah on average. So these were either the 25Ah variety or if you account for inaccuracies and losses, at best 30Ah batteries being advertised as 40Ah batteries.
To put this in energy terms, instead of around the 9,200 watts I was expecting, I ended up with about 6,100 watts in total. Clearly a thirty percent difference. Now in monetary terms I was looking at a loss of around $2023.00. Obviously I contacted the seller who firstly denies my claims as false?
Hello, Adam

Microvast had never sold any cells, the cells you bought from aliexpress are faulted or sub-standard or trash cells which were to be discarded/recycled.

In the last 10 years we sold many LTO systems instead of cells.

Best Regards

Rex LEI

Cell: +86-18705821327

Microvast Power Systems Co., Ltd.
They are obviously in the position of power now, having my money and being past the 15 day warranty period. So I am now forced to have to publicly shame the Shenzhen Foxell Technologies Co., Ltd for their false advertising of these GTK brand 66160 lithium titanate batteries.
I have lost thousand of dollars and they have washed their hands clean of any wrong doing – WHILE STILL SELLING THESE SAME BATTERIES! It seems that AliExpress care little for what their sellers do, and the sellers care little for what and how they sell their products. Buyer beware!
---
MORE PROOF: FAKE LITHIUM BATTERIES
A very popular video blogger also tested these batteries with a completely different method to mine, yet came up with the same result. His 66160 LTO batteries were also labeled the same – GTK 40Ah. His test involved a video dedicated to review 66160 LTO batteries with live testing.
LINK: Please scroll to 4.23 minutes on this YouTube video on these batteries. The reviewer notices they are no where near the capacity claimed.https://www.youtube.com/watch?v=p1xildSl4Hk
While I have had long and heated discussions with the seller about the batteries I purchased, they have flatly denied these 66160 batteries are fake. They stand buy them being 40Ah 66160 lithium titanate batteries. Even though my 66160 LTO test repeatedly showed their true capacity.
To make matters worse, not all the cells will hold 100% voltage. I cannot keep them balanced and have had to resort to an "ACTIVE BALANCER" just to be able to use these 66160 LTO cells.
"First fully electric buses to use Microvast LpTO lithium titanate battery technology started operation on two lines in Chongqing in April 2011. Today, there is about 31 EV buses and many more plug-in hybrids – all with fast charge in 10-minutes capabilities at 3.2 MW charging stations for electric buses (like US-based Proterra)."
I find it a disgraceful act for the Chinese to lie about their products. They have a thriving economy, advanced technology, and low manufacturing cost yet some companies choose to profiteer* from genuine buyers willing to spend decent money. In this case, Shenzhen Foxell Technologies Co., Ltd was the seller, I was the target, fake amp rating 66160 batteries were their tool.
---
Other lithium titanate batteries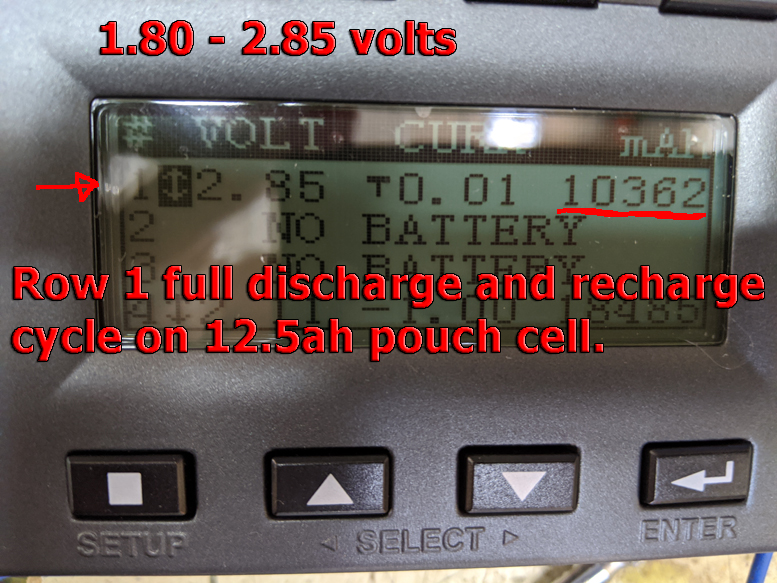 My second purchase was for 2000 amps of LpTO batteries – Lithium Pouch Tianate from what now seems like the same company trading under a different name. The cells were to be used with a Growatt SP2000 providing a 4.6kw battery for night time discharge.
Again, I went through AliExpress and ordered 40 of the 25ah cells, though soon had a reply and request to use different smaller capacity cells, but more of them to make up the 2000amps as ordered.
As it turns out, this now appears to have been a bait-and-switch type of sale where the seller – " Shenzhen Foxelion batteires Company Store" has acquired non-genuine, scrap or copied cells and stickered them as new "Microvast" battery cells.
Well, after recieving 160 of the "replacement cells" and spending hours balancing and hooking them up – in their first use, 65 of them swelled up like a balloon. Microvast advised me that these were either 100% fake or scrap batteries due for recycling.
Dear Adam

We have 10Ah LpTO cell and we never sold any cells to this company. How don't know how they get it. We can only sell to some big companies.

If you need something to replace this, I may introduce the real buyer of our cells who are buying in large scale.

Best Regards

Rex LEI

Cell: +86-18705821327

Microvast Power Systems Co., Ltd.
I ran a full test on these lithium titanate pouch cells and they came up 10.3ah on average. Obviously no-where near the 12.5ah claimed. Again, Microvast advised me these were old faulty 10ah cells they had disposed of!
These Chinese sellers on AliExpress have no shame at all. I have been in discussions with the sellers who basically disagree saying their batteries are "real capacity" then cut off communication with you.
I am to scared to try the remaining batteries for fear they to will swell up. So basically I have some very expensive rubbish laying around that I can no longer use, or dispose of?
Now you can see my $10,000 problem that even AliExpress even seem uninterested in assisting me with…
TESTING LITHIUM TITANATE BATTERIES
So basically there were only two test procedures available to me when I first purchased these LTO batteries. One was a process of discharging a battery with a known resistance and performing a "few" calculations to get an approximate read.
The second way was to create a 12v battery pack and discharge it through a 12VDC – 240VAC inverter. Either I could calculate the time versus load to get a figure or use something like a KILL-A-WATT meter. Both of these tests were tedious at best.
It wasn't till late 2019/early 2020 that a multi-function battery charger was available with newly released firmware capable of automatically testing an LTO – lithium titanate battery cell. – See SKYRC MC3000.
---
I'm hoping to have a generous philanthropist come across this post and possibly "donate" so that I might recover lost fund?
PLEASE HELP – I'M TRYING TO RAISE THE $10,000 LOST TO THESE THIEVES
---
---
---
---
Summary
Reviewer
Review Date
Reviewed Item
GTK Lithium Titanate Battery
Author Rating





Product Name
Shenzhen Foxell Technologies 40ah GTK Lithium Titanate Battery
Price
Product Availability