As far as GPZ 7000 aftermarket accessories go, this is my number once choice, the swing stick otherwise known as the guide arm. The function of this is to spread the load on your arms and shoulders while giving more precise control over the location and angle of your metal detector coil.
The device contributes to less fatigue while detecting for long hours and reduces load on muscles and joints. I simply would not (and could not) detect without one! Here we will look at current market options for the GPZ 7000 metal detector that I personally have used.
We start with a quick overview of the original (OEM) Minelab GPZ 7000 Guide Arm and follow on with some of the aftermarket leaders. Each with different benefits to offer your personal choice.

CLICK HERE TO CHECK PRICE
The original design Minelab GPZ 7000 Guide Arm was a major innovation in its time when first released. It had a lot going for it including light weight and compact design made of modern materials. The shaft and handle designed for easy use without getting caught up in your rig.
Two places were I found the Minelab Guide Arm failed was:
1. the round ball handle and:
Primarily, I found it easy to use but after long hours of use, ended up stressing my fingers because of an unnatural hawk like grip. This resulted in strained fingers and a damaged tendon on my center finger commonly known as "trigger finger".
This over time has evolved into sore and swollen joints in my hand. I ended up cutting the ball off and attaching a light plastic shovel handle which allowed for a more solid, controllable grip and to some extent, alleviated any further hand injury. This is by no means the perfect answer, but a step in the right direction.
2. the flexible joint connecting it to the detectors shaft.
This is a major complaint by anyone familiar with the GPZ 7000 detector and to some degree includes the attaching rubber strap. The rubber strap by nature, deteriorates over time and you will receive two of these when purchasing a repair/replacement kit.
The squiggly looking plastic solid state hinge is another ingenious innovation for it's design and performance. Unfortunately its strength and longevity leaves a lot to be desired. Users who nurse their detectors while out in the field will gain more time on the parts than your typical prospector.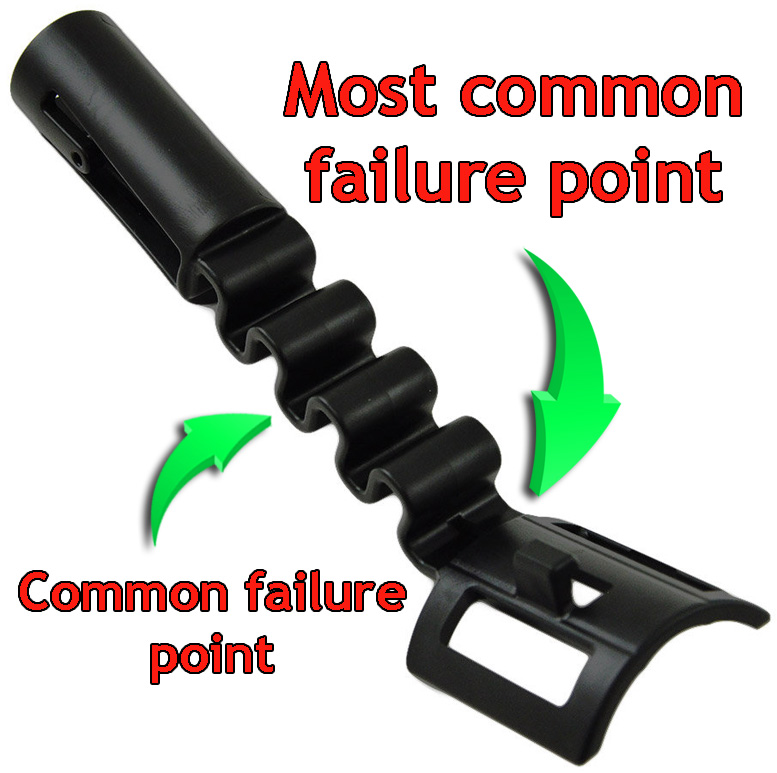 What I found was the guide arm joint, made of plastic, would fatigue rather quickly if you regularly used any force on it to control your coil or let go of it in the field regularly where it would hang and initiate a stress fracture/tear.
To counter this I bulked up the curly bits all the way down to the flat part that attaches to the detector shaft with a robust silicone. (All Clear type) This dried into a tough flexible reinforcement to which I also slid some heat shrink tubing over (single wall – non glued type) which also remained flexible while supporting the joint.
This set up extended the lifespan greatly allowing me to use my coil as a broom on the forest floor moving branches and leaves. Unfortunately it wasn't the long term answer I was looking for. It did however extend it's usefulness by many months.
---
Is 3D The Answer?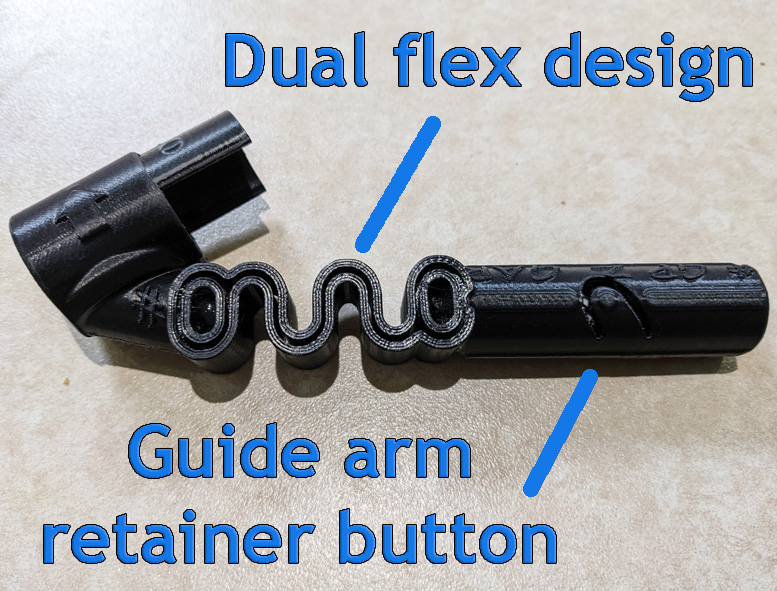 ---
TIME LENGTH – 1:00 Minute
---
While much thought and time is often put in to aftermarket offerings, often with design innovations exceeding the original design – the key factor in 3D printed parts is the material used to produce them. Most of which is low strength and brittle which relies on maintaining optimal temperatures to create.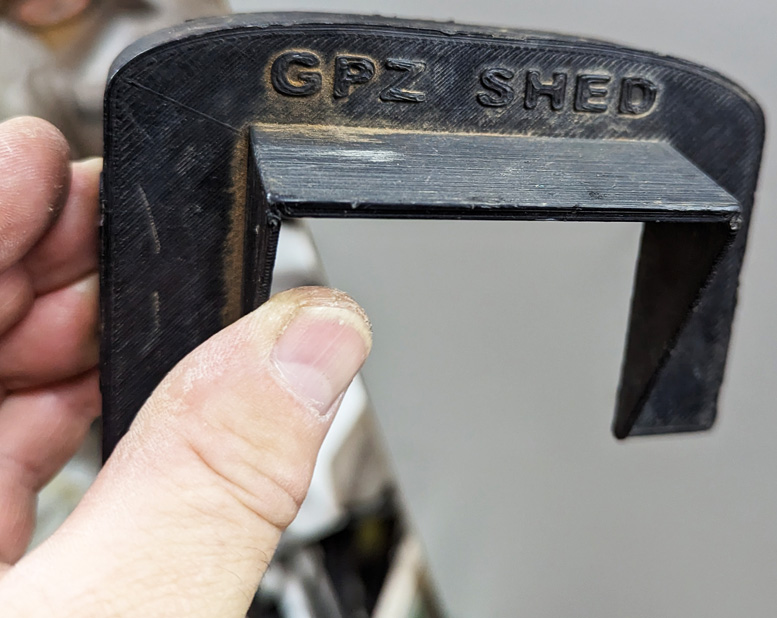 CLICK HERE TO CHECK PRICE (GPZ SHED)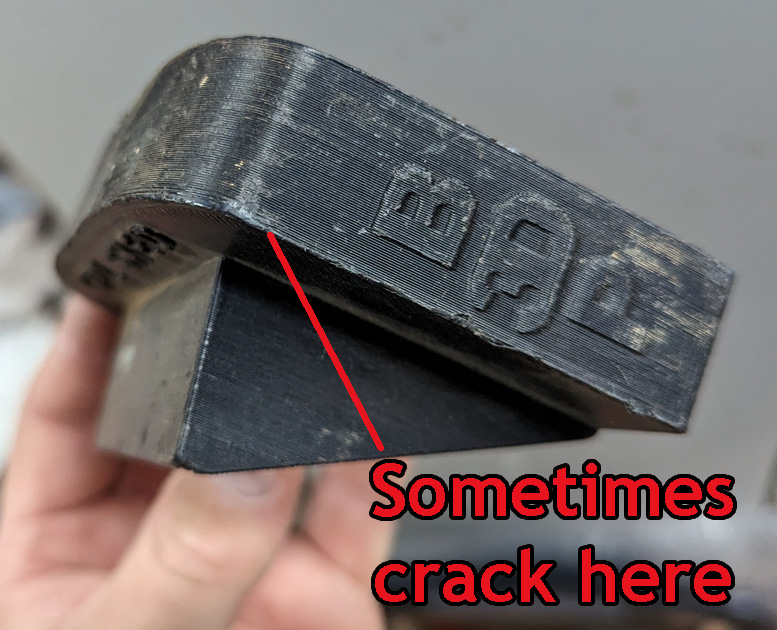 ---
After reading a Facebook post some time back, a 3D printed offering was suggested to me. So I tracked down a retailer and handed over my $50 with high hopes and even higher anticipation of finding the solution to the never ending failures of the Minelab part.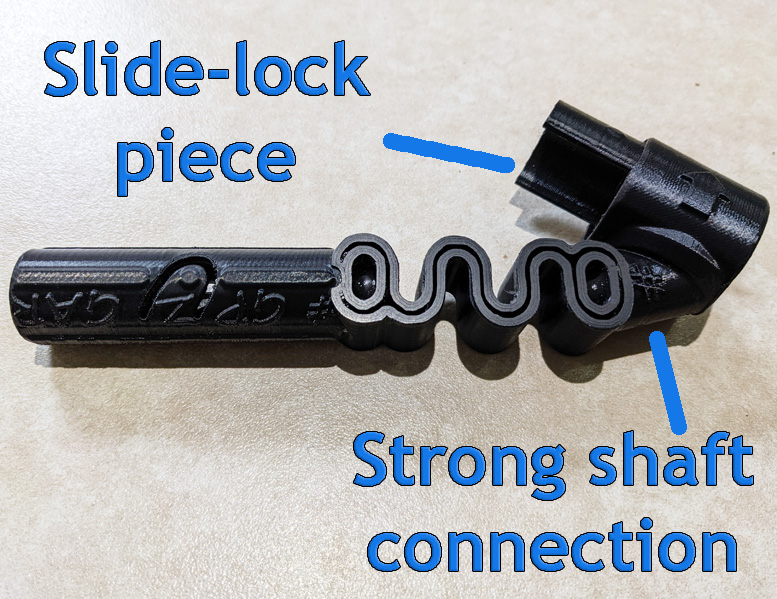 ---
TIME LENGTH – 0:22 Seconds
---
The part arrived in the post, it certainly looked the part – a much beefier design while still remaining light (and non-conductive/metallic). It wasn't till I tried fitting it that I realized there was some minor fine measurements that may have been slightly off, but not a deal breaker.
It is designed and made in central Victoria and has only had a small number distributed for testing with results reported positively. I question the small number in use VS quality control and the robustness of in field testing that companies like Minelab would have spend a lot of time and money on. Possibly the release was a little premature?
Then I took it out in the field…..well, it lasted just over an hour before it fractured and another 15 minutes before it quite literally fell apart. Fortunately, a dose of electrical tape and some cloth tape got me through the prospecting session.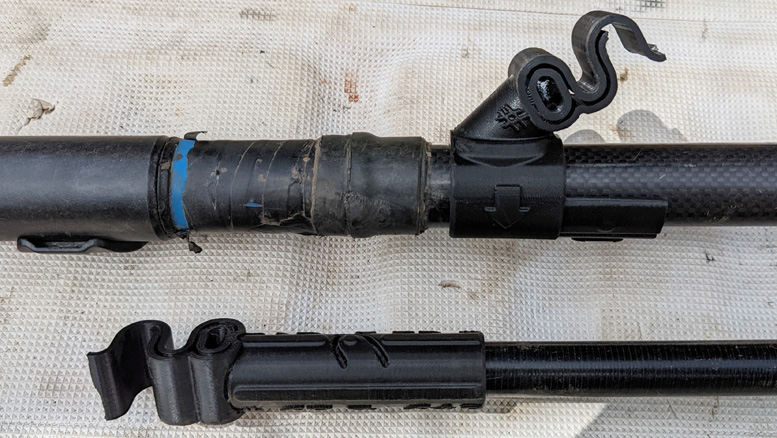 Note in the image above, no matter what I did, I could not get the locking tab to fully insert without popping off the gripping channels. This picture was when I returned to my car to make some hasty repairs. You may notice sticky tape in some images.
---
TIME LENGTH – 0:34 Seconds
---
Maybe just a quality control issue or possible the material? A softer, more flexible nylon "may" have improved the situation – a question for the designer to ponder. The GoldSeekr shown below had a strange semi-soft compound that seemed more durable.
So why did it fail???
My initial thoughts, maybe the red shovel handle I was using was to heavy, so I weighed it as seen above. Not really that heavy and I was holding the handle 99% at a time. Also, this was the same handle I was using with the original OEM Minelab Guide Arm flexi-joint which gave me many hours of swing time.
Design + Material: The designer/inventors intentions are highly commendable and should be recognized as such. What I soon realized is that the dual flex design actually worked against itself. When flexing in one direction, it would ultimately load up the other side so doubled the fatigue.
---
TIME LENGTH – 0:17 Seconds
---
To this, the material was extremely brittle and lacked the flexible nature of other plastics. The GoldSeekr LongReach listed below exhibits a more flexible material that is also 3D printed, though I'm not sure it would live up to expectations in this design.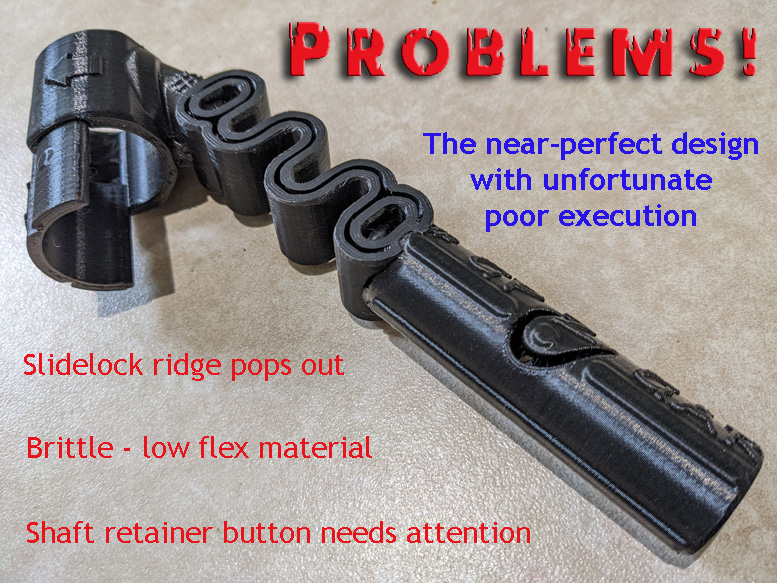 A possible design improvement "might" be to add a flexible rubber, similar to a cured "all clear silicone", bonded in the space between the two flex pieces. This is only an idea I had that would improve flex resistance and improve strength while relieving the crack causing fatigue.
It would also spread the opposing pressures that fatigue the flexible section of the device. How much this would change the function is unknown but certainly there needs to be improvements.
This would possibly also give it some up/down flex which the original Minelab design offers. Letting go of the handle and allowing the shaft to droop puts sideways pressure on the flex area that this design is not made for, ultimately leading to failure.
Squeezed in hand tightly and the rest crumbled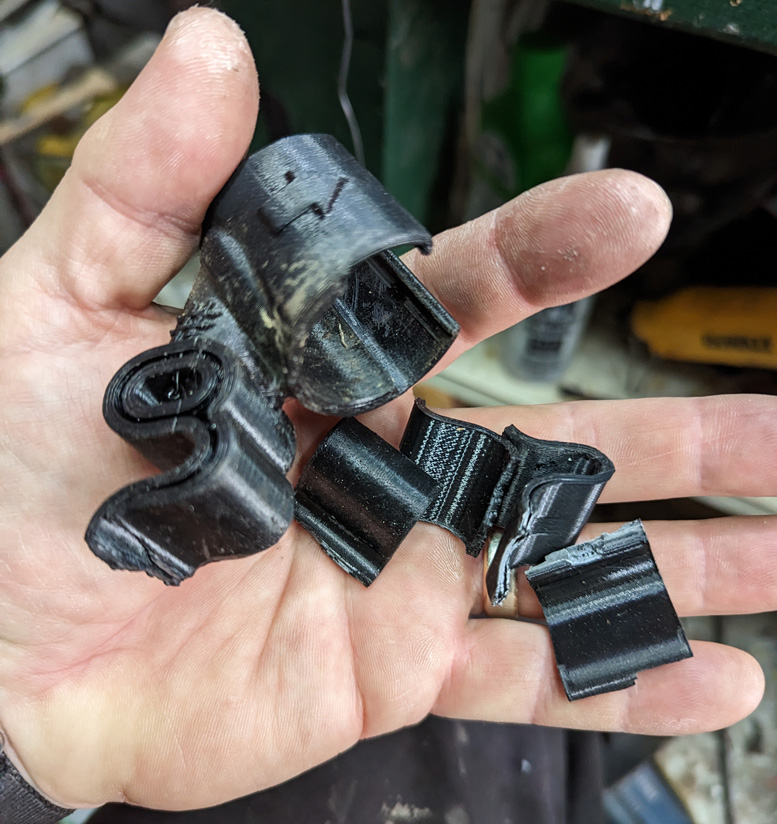 I hope the designer continues with evolving this product as it does hold possibilities to become the "go-to" replacement part. Until then, I will pass on this design. On a side note, the retailer refunded me in full – and the manufacturer couldn't understand the results achieved.
---
Watch the short video of failure below – Part 5
TIME LENGTH – 3:18 Seconds
---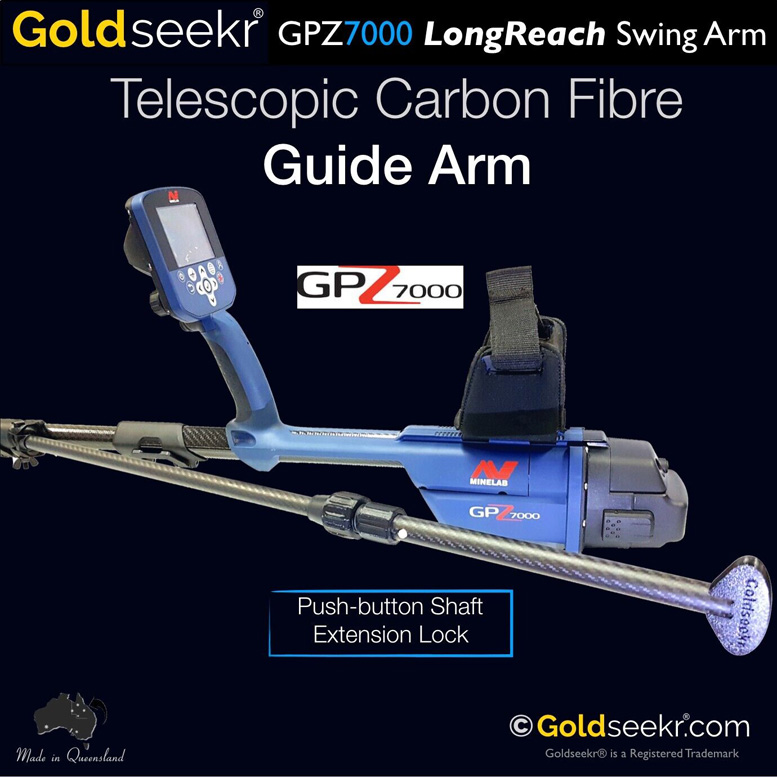 CLICK HERE TO CHECK PRICE
GoldSeekr LongReach Swing Arm
Made In Australia
This certainly looked like the most technically advanced, well thought out swing stick or rather metal detector "control arm". As Minelab failed to create options for their GPZ 7000 and some of their other detectors, it was up to innovative after market manufacturers.
The "GoldSeekr LongReach Swing Arm" is available to suit many different detector models of which you must nominate from a list when purchasing. In this review I am concentrating on how it applies the the Minelab GPZ 7000 metal detector.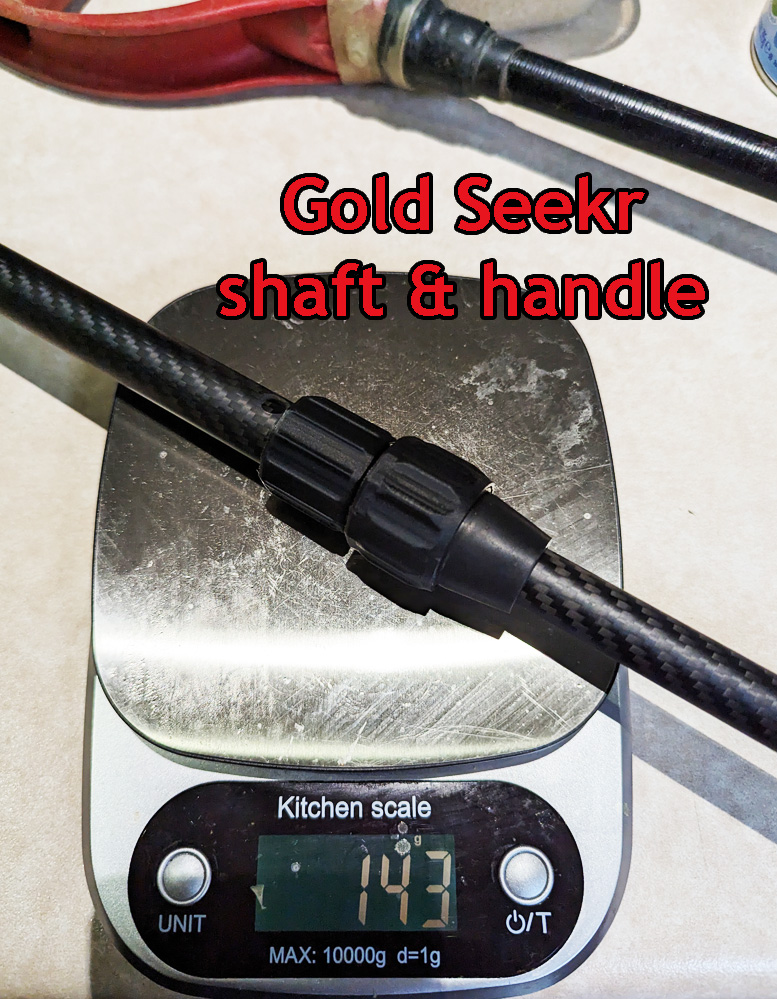 Looking at the overall design, the GoldSeekr is probably the most technologically advanced swing stick on the market. A massive step up from the original Minelab, though the original Minelab design certainly could have been improved upon greatly with only minor changes to increase its durability while maintaining it's unrivaled simplicity and function.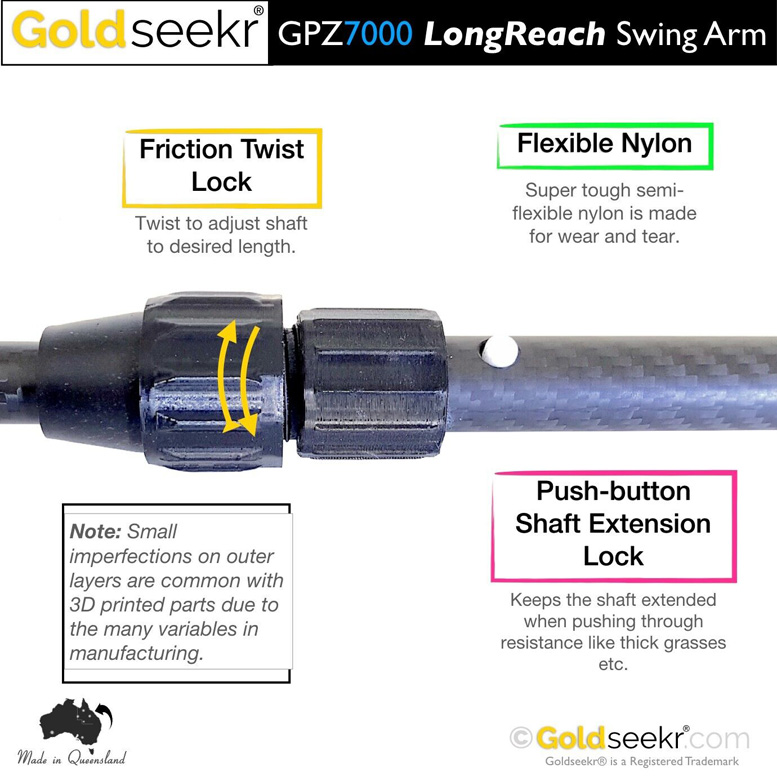 Size Adjustable
Brilliant!
The actual carbon fiber shaft is strong an light weight. It has been designed with much thought and somewhat resembles the shaft on a GPX6000. The two piece shaft has a 3D printed adjustment knob half way along and seems to work very well. It locks in place and holds well under pressure of maneuvering the coil.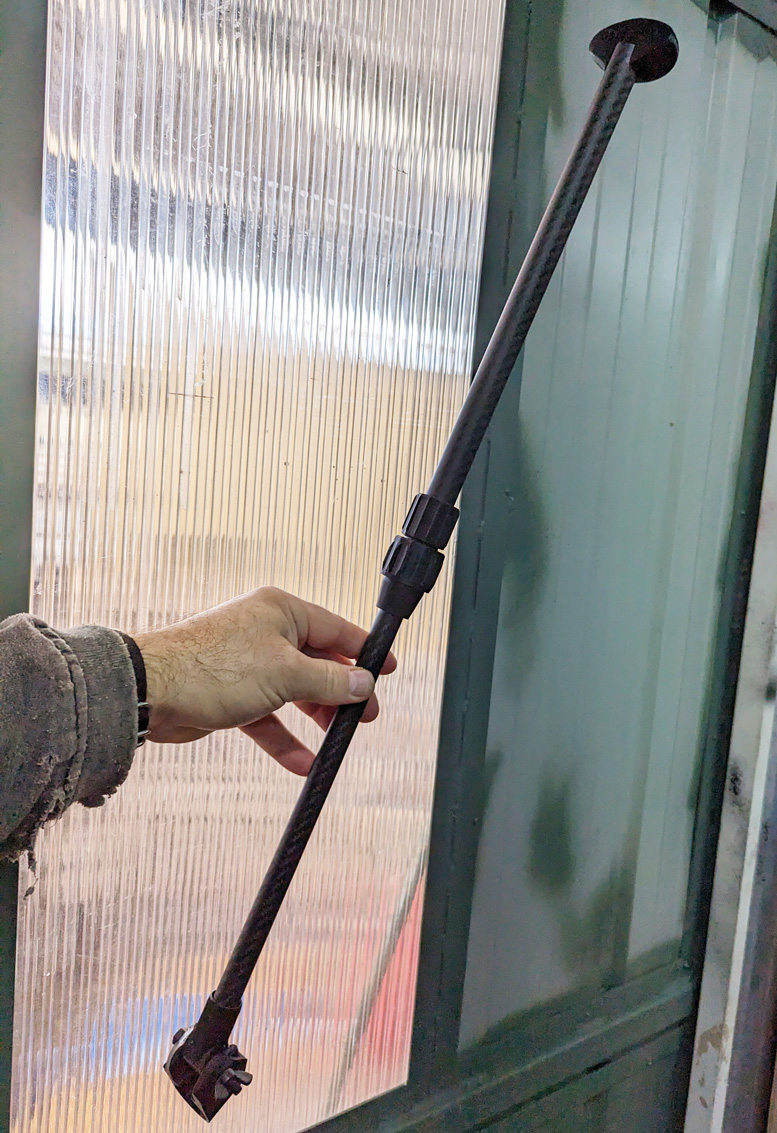 There is a spring loaded plunger which is designed to limit extension to a safe and strong position in a locating hole. Adjusting the shaft length is easy, quick and extremely functional. This is probably the best overall feature of the design and deservedly so.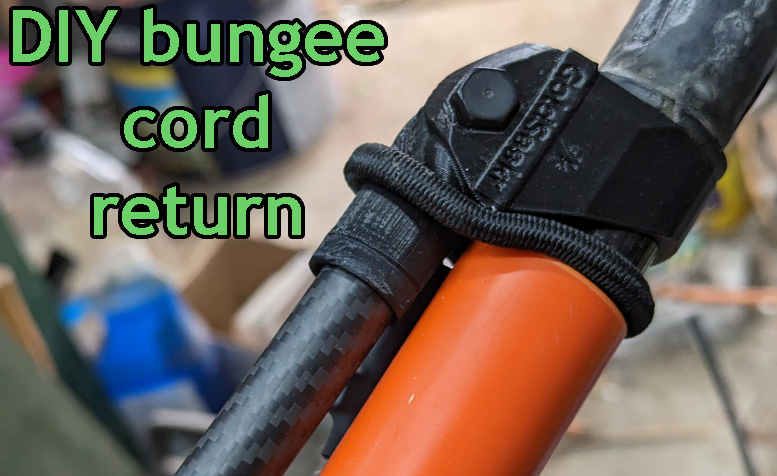 I found adding the bungee cord return improved handling and if you let go of the handle, it returned against the shaft nice and neatly. This overall shaft is highly recommended and would benefit from a simple design change allowing a slight up-down movement where it attaches to the shaft.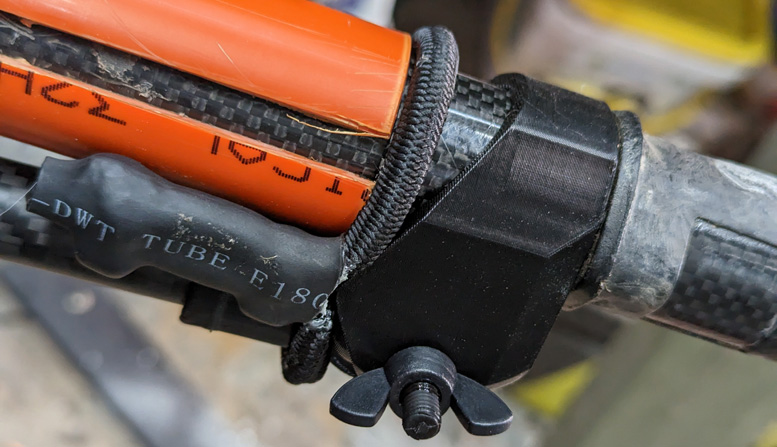 All parts appear to be quality made and quality assembled with the use of high strength glues and durable 3D printed plastic with quality, commercial grade carbon fiber poles. Quality control is of a high standard with excellent finishes.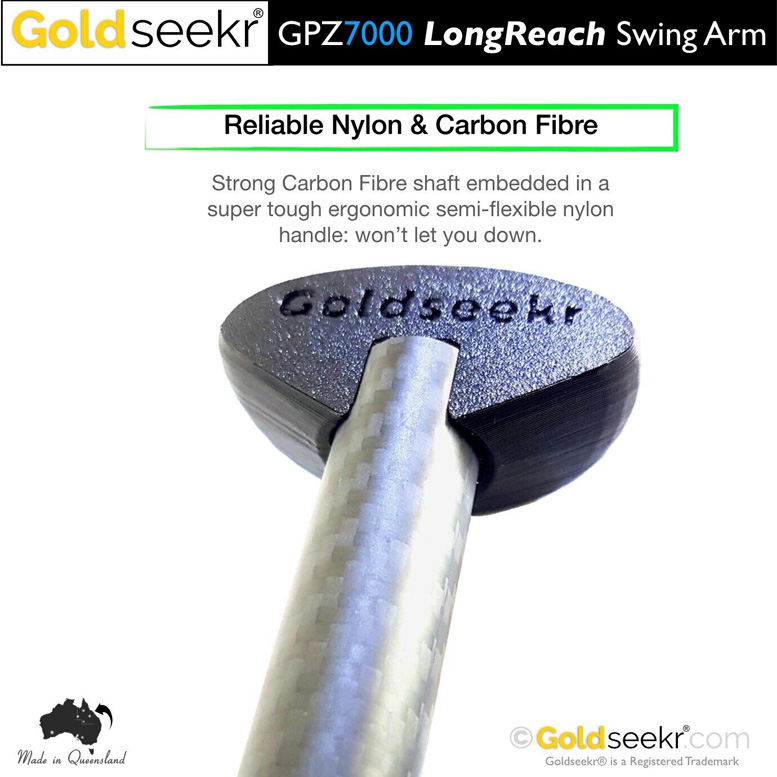 Hand Grip
Good and Bad
Initially I was very impressed with the thought that had gone into this part of the design, then I remembered – one persons ideal isn't necessarily another persons perfect. The 3D printed handle is constructed of a comfortable material that isn't quite hard and isn't quite soft.
The design allows for compact closing being a semi circle design. Holding the grip is comfortable from a "material" point of view but I found it ergonomically uncomfortable to use for any extended period of time.
I experienced some hand cramping but noticed the semi circle design contributed to better control being that your hand didn't slip. It is light and very strong, and I doubt this area would fail in the field…ever!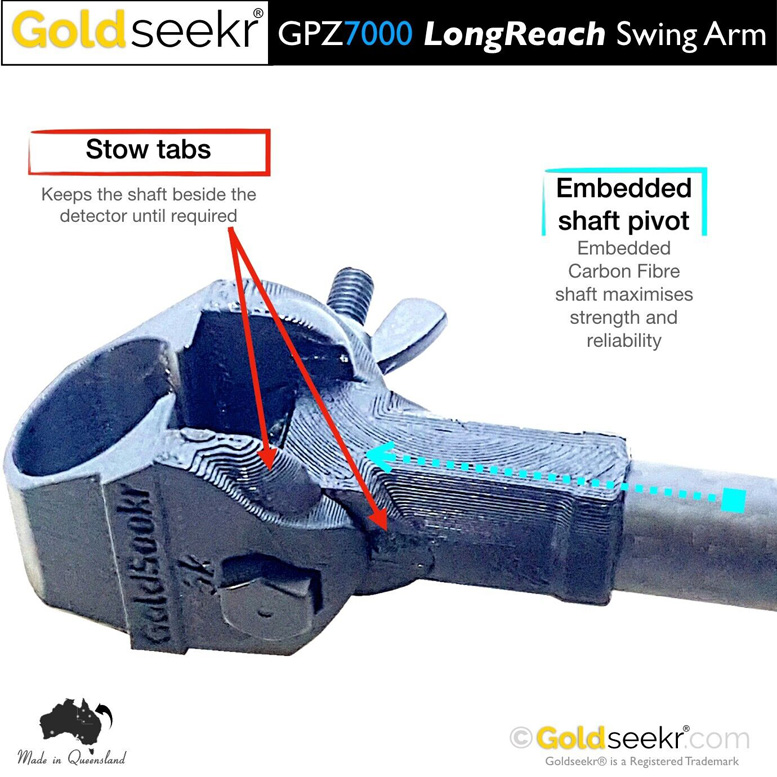 Negatives?
Nothing is perfect
So if there is anything negative I would have to share, it would be with the clamp design. A few things come to mind – first I was worried about the fact it was 3D printed as the material can be quite brittle, but it seems that is not an issue here.
The design allows for firm tightening, as much as a nylon threaded bolt will allow. Notably though was that if it wasn't kept firmly tightened, it would twist on the shaft and start scratching the carbon fiber shaft leaving permanent marks and losing it's luster.
It should not be a major problem as long as you check your equipment regularly. The clamp section also integrates a notch that holds the shaft in home position when closed, and simply releases when you move it out. I do see this not lasting though the novelty is appealing.
Having no return spring/elastic means if you let go, it falls away to the ground, and a little painful.This was quickly rectified with a simple bungee cor looped from shaft to shaft which proved extremely effective.
What I found most frustrating was the fact there was only movement in one direction at the bracket which meant difficulty in maintaining and tracking the coil while following the contour of uneven ground. This is more dependent on individual style, which certainly didn't suite mine.
If the clamp is loose at all, it allows for a more comfortable swing giving two axis's of movement. This in turn scratches the shaft, so you tighten the bracket. Then you find your opposing arm wildly following the angle of the detector coil – a right pain after a while.
Also, with the bracket tight, maneuvering the coil puts a lot of pressure on the 3D printed bracket which while much stronger than any other 3D printed material I have seen before – may eventually wear, fracture or otherwise fail. This is only an opinion as it didn't fail on me while I was testing it.
---
A Claim To Good To Be True?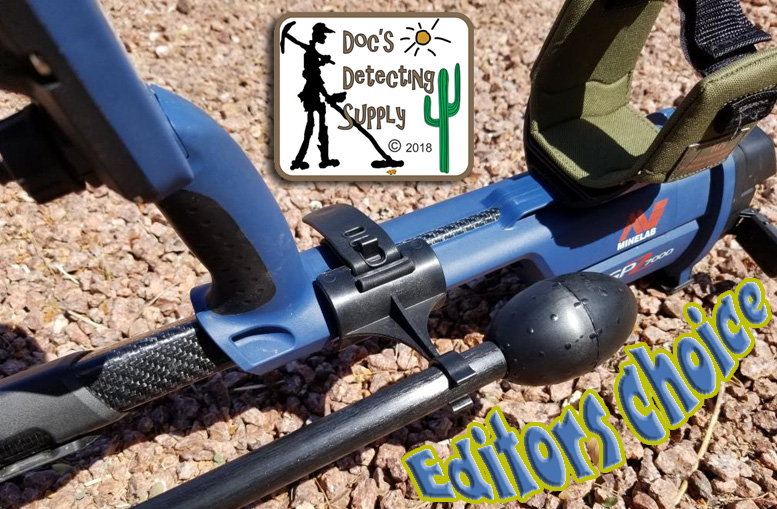 New SAGA™ is really exceptional, if I don't say so myself. If you currently use a Swing Arm, you will throw it away when you use this one.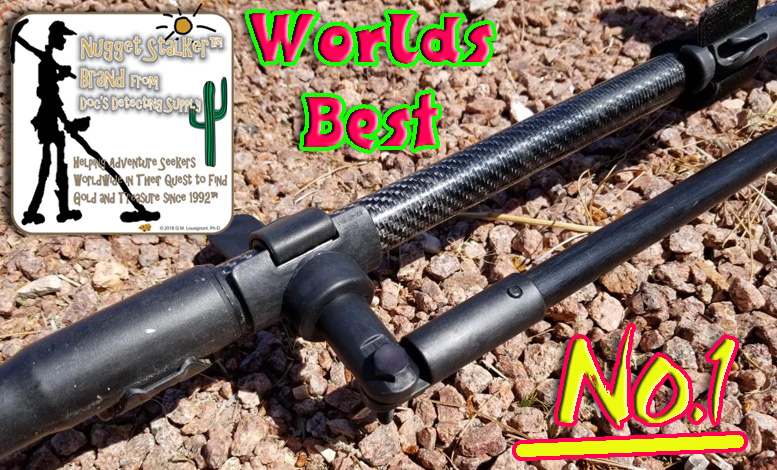 CLICK HERE TO CHECK PRICE
Without a doubt, the last swing assist guide arm you will buy for your detector! I was dubious at first at some of the claims made buy the retailer "Docs" (USA), then it arrived in the mail. No 3D printed plastics, made of industrial strength fiberglass impregnated nylon – strong.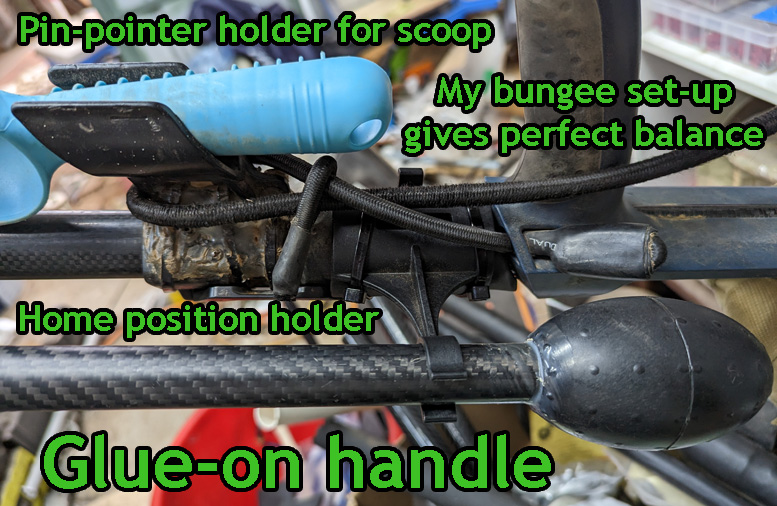 I found the service exceptional with the option of receiving the parts plus shaft, or just the parts and using your own shaft savings some money along the way. The international postage had my order arrive in under 2 weeks.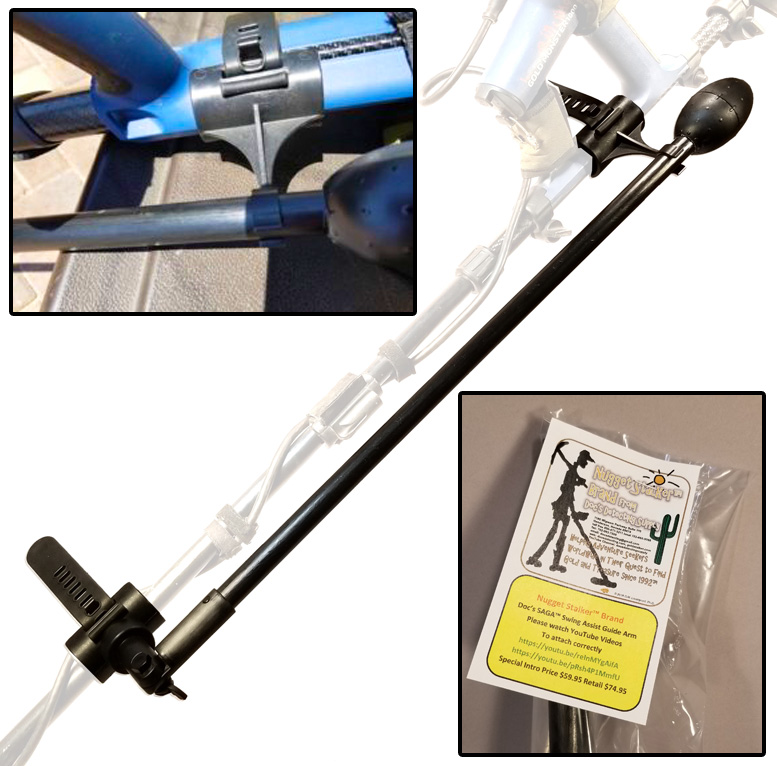 There is much written about this device on both their home page and on the link below (best/easiest way to buy is on ebay) and also on their ebay page so I will be just describing my experience and fitting here. They provide detailed instructions on fitting (as recommended).
AND THE WINNER IS: Doc's Nugget Stalker® Brand SAGA™ Swing Assist Guide Arm

CLICK HERE TO CHECK PRICE
The egg shaped handle is superb adding a universally comfortable offering a natural grip that allows your hand to grip, slide and move as required. I chose to order the device without shaft and ended up using the GoldSeekr adjustable shaft which allowed me to adjust the length to suite coil and terrain combinations.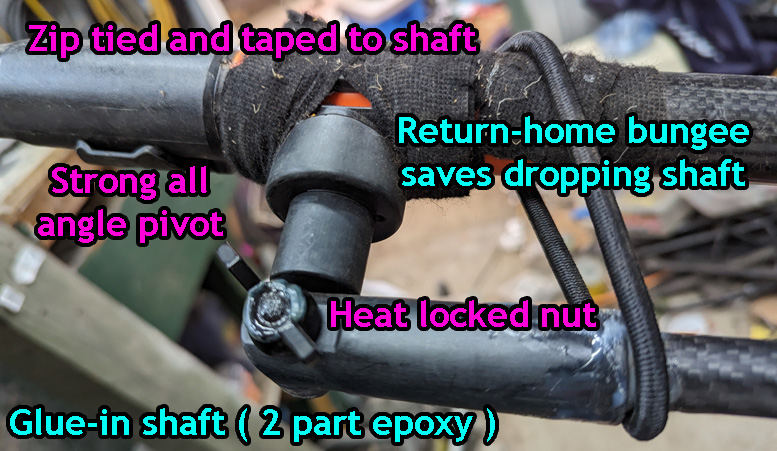 My choice was to zip tie the device to my detector shaft. To protect the shaft I first slid on some PVC conduit as while carbon fiber is strong, it's surface can be brittle and easily scratched when unusual pressures are applied (from a zip tie).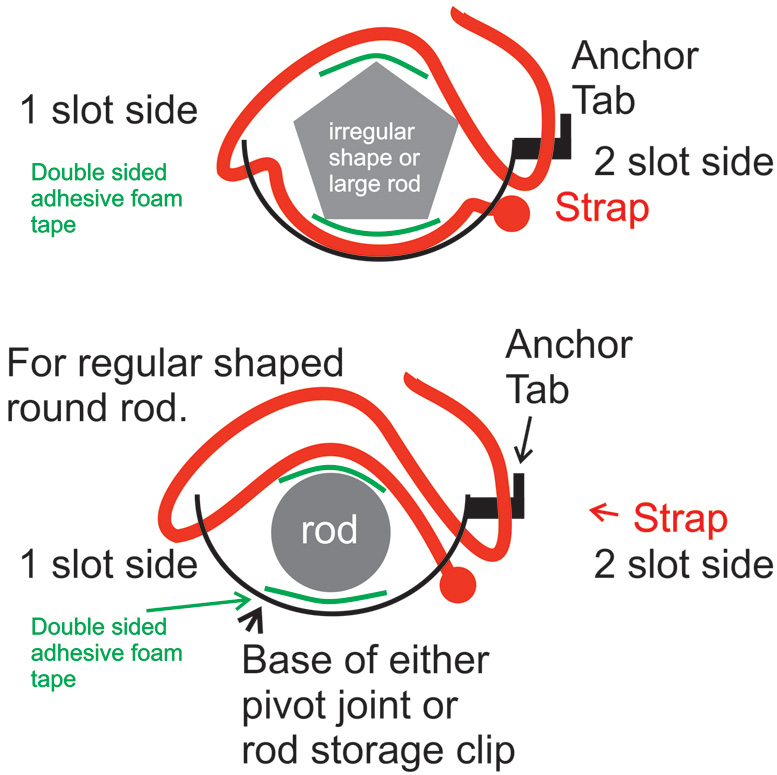 I have been using this set up for some time now and it is every bit as strong and versatile as claimed. My only suggestion is to use the adjustable shaft as the fixed one restricts your options, other than that, this is my idea of the perfect guide arm/control arm and I would recommend it to everyone.
I also used a piece of PVC conduit when strapping it to the detector shaft for the device to make a perfect surface to surface fit and avoiding any potential movement which could scratch the carbon fiber shaft. They supply 2 rubber straps for fitting the device to your detector, much like the original Minelab system.

Manufactured and Distributed by Doc's Detecting Supply, Henderson, Nevada
---

And Now For Something Different
While not exactly designed for the GPZ 7000 – this control arm includes a light weight, compact "handle" which greatly improves comfort and control. With some chopping and changing, this could be modified for use on the GPZ 7000.

CLICK HERE TO CHECK PRICE
---
Some ideas? DIY fix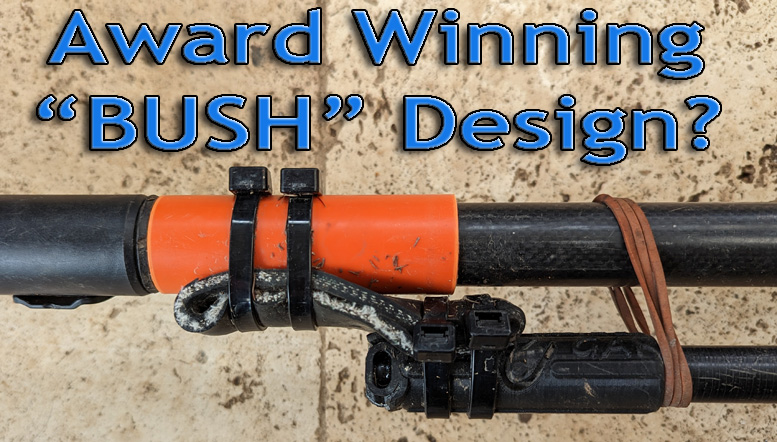 The orange conduit is to protect the carbon fiber shaft from damage – cut a section then split length ways to create a clip on cover.

The silicone turbo hose is approximately 4 inches/100mm diameter. Anything similar can be use, I did find the silicon material a little too soft so maybe better with radiator hose or similar.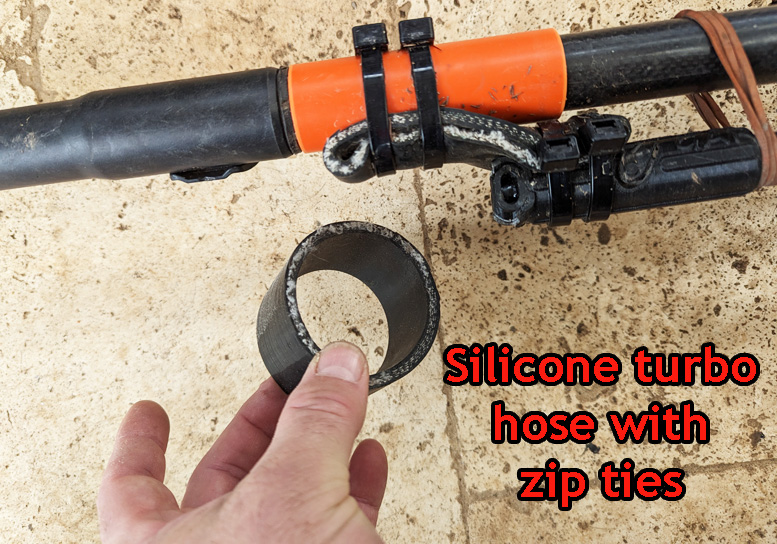 Use either multiple small zip ties or a couple of heavy duty zip ties. Make sure you tighten them firmly. This system literally never wore out for me, but wasn't "my" ideal set up. Otherwise I'd still be using it today.
---
Other Options
Summary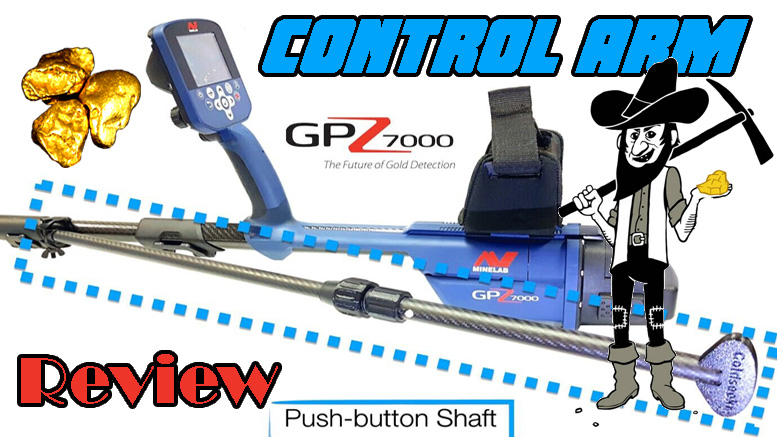 Article Name
GPZ 7000 Swing Stick & Guide Arm Review
Description
A review of Swing Sticks and Guide Arm accessories for the GPZ 7000 metal detector. Pros and cons of different accessory parts for the Minelab GPZ 7000.
Author